ComicStripFan.Com
The Rabbit Berets, by Eric Lindgren
The Rabbit Berets is another creation of Eric Lindgren, a talented artist with the webcomic strips Meadowshire, Space Pirates, and Nip also to his credit. You can visit his site by clicking here.
Here's some history behind The Rabbit Berets, in Eric's own words:
"For the first half of my senior year of high school, I lived in Evanston, Wyoming. There I met Glenn Staley. He and his buddy, Greg Jackson, used to go out on weekends with their M-16s and go rabbit hunting. They referred to the targeted furballs as 'rabbit berets'. Both Glenn and Greg had their capes set to join the army after high school. Glenn found I could draw one day in math class (bad habit of mine...) and asked if I could do something with these nefarious bunnies. So I put him and Gregg into a... unique... foxhole and the strip was born. It now only gets new strips once in a very blue moon. But I still find my new readers wish to see it, so it remains in archive fashion on my website."
Check out some great Rabbit Berets art below!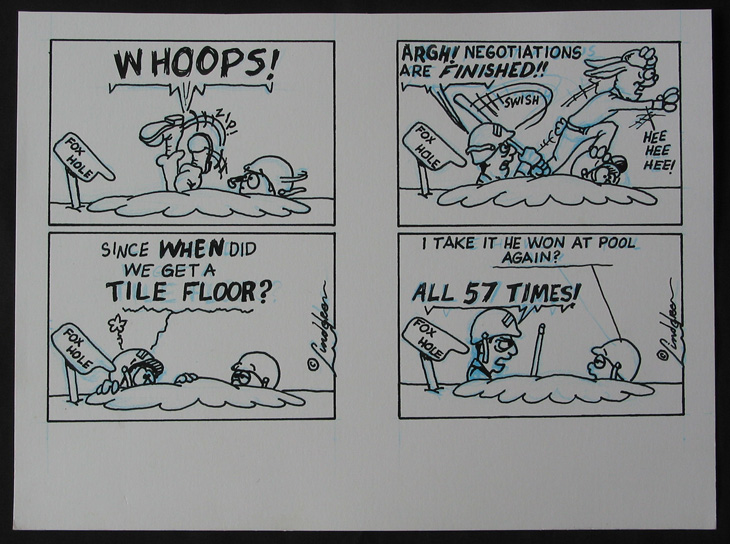 Example of The Rabbit Berets dailies by Eric Lindgren. Copyright Eric Lindgren.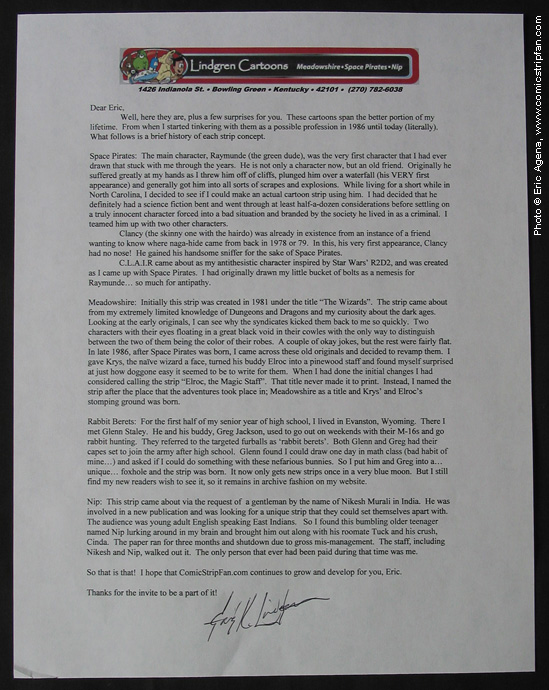 Signed letter by Eric Lindgren explaining the histories behind his four webcomics.
Also, check out the gallery pages for Eric's other webcomic strips, Meadowshire, Space Pirates, and Nip.
Although The Rabbit Berets is no longer updated (or not very often, anyway), you can see the archives for the strip (as well as the rest of the Lindgren family of cartoons) by clicking on the link below!

All art is © by their respective © holders. ComicStripFan.com and entire site © Eric Agena. All Rights Reserved. Unauthorized reproduction, use or publishing in part or in full is prohibited.