ComicStripFan.Com
Carol Day, by David Wright
David Wright and his comic strip Carol Day, were spotlighted in a three page article in the magazine "Comic Book Artist" issue no. 18, Feb. 2002, in a three-page article entitled "The Best Artist You Don't Know: Revealing the work of unknown artist genius David Wright." The following background information is paraphrased from that article by David A. Roach:
This strip was never collected and its sole appearance in a history book was some 30 years ago. Carol Day ran for over 10 years from 1956 to 1967, in the London newspaper The Daily Mail, garnered a fanatical following, appeared in 22 countries, and then quietly disappeared as if it had never existed. David Wright was born in 1912 into something of an artistic dynasty. Both parents were artists and the family, somewhat fancifully, was thought to be descended from the legendary 18th century painter Joseph Wright of Derby.
David's talent for drawing women turned out to be profitable, and so, David Wright, pin-up artist was born. His first pin-up appeared as a loose insert in 1941 in The Sketch magazine and it created an immediate sensation. During the war, Wright was in many ways Britain's equivalent of America's Alberto Vargas and his pin-ups adorned barrack rooms and bedroom walls up and down the country. In fact, it has been suggested that the Army kept him in Britain, out of active combat because they realized how important his pin-ups were to the country's morale. Unlike Vargas, Wright preferred to use a brush rather than airbrush and his illustrations were notably more "painterly" and less slick than his contemporaries. Wright's first strip, starring Kit Carson, appeared in Cowboy Picture Library #56, July 1952. Judy debuted in March 1953 in the weekly magazine Titbits. That strip and his next one Jo, were transparent excuses to draw leggy girls in exotic locales. In 1957 he did Danger Treads Softly which was painted in black and white.
Carol Day premiered in the September 10th, 1956, edition of The Daily Mail, one of Britain's biggest papers, and it's safe to say Britain had never seen its like before. Carol Day was in many ways Britain's response to other well-drawn American soap opera comic strips like The Heart of Juliet Jones, On Stage and Apartment 3-G. Carol herself was a fashion model, with a wealthy uncle, who was endlessly searching for love and never quite finding the perfect man. Within this framework, Wright, with scripts from Peter Meriton, was able to explore all manner of subjects and locales, from high society to the darkest slums, and even the supranatural.
What elevated the feature from that ordinary to the spectacular was Wright's art, which was truly extraordinary. His drawing had the relaxed, intuitive grasp of body language of a Raymond or Drake, but he used his brush and pen in the painterly style of much earlier illustrators such as Charles Dana Gibson and James Montgomery Flagg. Wright barely penciled his strips, merely drawing enough so that he could see where the figures and setting should go. Once that was established, he swept in with great swathes of black brush strokes, delineating features, forms and shadows. Finally he would add layer upon layer of dense pen strokes, oppressively dark cross-hatching for the backgrounds and delicate, sketchy explorative lines for faces, folds and foliage. He avoided outlines if he possibly could, preferring to play tones and surfaces off each other in an energetic collision of shadow, texture and light.
One of the contemporary criticisms of Carol Day was that it appeared somewhat old fashioned which, baring in mind Wright's somewhat secluded existence is perhaps not entirely surprising. Ironically though, it is these very same anachronistic qualities that give the feature such a timeless quality now. Carol Day inhabits a nebulous post War England that never was, filled with crumbling manses, flowing gowns and vintage cars (all exquisitely rendered, of course). At its height, the strip was immensely popular, as was made all too clear when Carol lost her much-valued virginity. So it was that Carol consummated her affair, with a married man no less, between panels, in the most discrete manner possible; in one shot they were embracing with the sun setting behind them, in the next they were reading the papers over breakfast.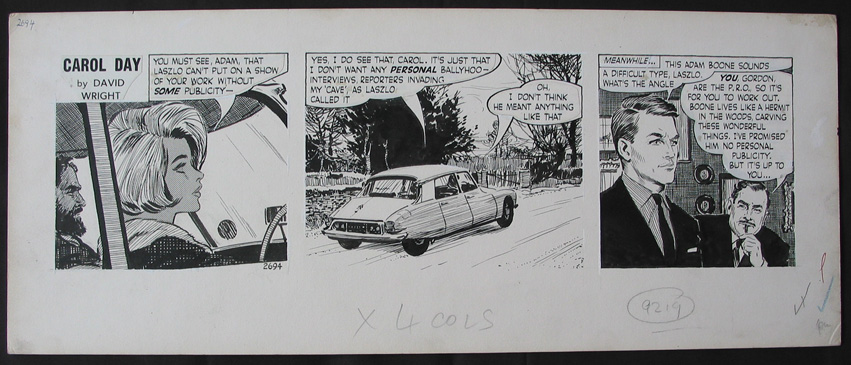 Example of Carol Day daily by David Wright, #2694, date and year unknown but probably from 1960s. Art image area: 17" x 4 3/4". Black ink on illustration board. Zipatone benday screens are still in perfect condition. Beautiful example with close-up headshot of Carol in the first panel and an early '60s Citroen in the second panel.
All art is © by their respective © holders. ComicStripFan.com and entire site © Eric Agena. All Rights Reserved. Unauthorized reproduction, use or publishing in part or in full is prohibited.