ComicStripFan.Com
The following is a reprint of an article from the Navy Times about Mr. William Manske, the creator of the strip Sleeve Banyon. It is reprinted with the permission of Mr. Manske himself, who was also kind enough to send me a scan of the original article which ran in the Navy Times prior to the publication of the strip (thanks, Bill!). Enjoy!
| | | |
| --- | --- | --- |
| | WILLIAM MANSKE | |
Back in 1952, the battleship Iowa was on the long cruise back from Korea. As seagoing men know, anything can happen on a long cruise. What happened on this one was the sudden appearance of the brainchild of the editor, William C. Manske, JOSN, in the ship's paper, "Iowan."
For a number of months thereafter Iowan crewmen were subjected to the incredible adventures of Sleeve Banyon, the conqueror of every MIG and charmer of every woman he encountered - or who encountered him.
"Hilton Sniff" is at work in the adjoining photo on one of his Sleeve Banyon cartoon sequences [NOTE: See photo in copy of article pictured below.] Hilton was born William C. Manske in Minneapolis on May 9, 1928; had time in high school for both art and athletics. After a year at Minnesota U. he received a scholarship to the Minneapolis School of Art.
After graduation in 1951, he worked for advertising agencies until he entered the Navy in January 1952. He was editor of the Iowan and art editor of the battleship's Korean Cruise Book. He reported to SaCLant in Norfolk in September 1953; was released to inactive duty last month.
P.S. - Manske recently met a chap named Milt Caniff. He tells us Mr. Caniff - who, someone told us, draws a comic strip about some fellow named Canyon - was "amused." Manske wouldn't say what amused Canyon - er - Caniff.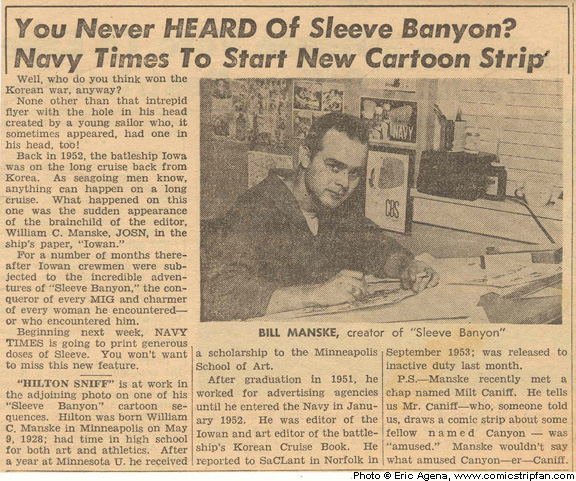 Scan of the original article from The Navy Times, courtesy of Mr. Bill Manske himself.
After Mr. Manske retired was discharged from the Navy, he continued to do art, advertising, cartoons and teaching. He is now retired but still does cartooning and varied art projects.
Be sure to visit the Sleeve Banyon gallery page for a great example of the art of Bill Manske.
All art is © by their respective © holders. ComicStripFan.com and entire site © Eric Agena. All Rights Reserved. Unauthorized reproduction, use or publishing in part or in full is prohibited.