ComicStripFan.Com

Sob Story, by Ed Brisson
Sob Story is the creation of Ed Brisson. I discovered Ed's strip via the 2005 Daily Grind Iron Man Challenge, of which Ed is a judge (not to mention one of the founders; more on that later). The strip started out purely autobiographical, but has changed a little bit since then. I have no idea how he finds the time to keep up with both his strip and with running the Daily Grind!
Here's the history behind Sob Story, in Ed's own words:
"Sob Story was originally started in 1994. I had just recently discovered Joe Matt and his series Peep Show, it changed the way that I thought about comics - I'd previously only read superhero type stuff.
"The first couple issues of Sob Story were about 20 pages each. I'd photocopy copies of them and then sell them through local stores and out of my backpack. The art and story were pretty heavily influenced by Joe Matt back then - autobio stories about the breakdown of my relationship with my freshly ex-girlfriend.
"The original couple issues of Sob Story allowed me to get a lot of things off of my chest. It was an honest and open look into my life and what had been going on at the time. In retrospect, I think that I might have been a little too open about what was going on in my life.
"Over the next 2 and a half years, I had about 5 or 6 false starts on issue #3 before giving up.
"In 2000, I started drawing comics again for my college paper. The first series that I'd started was a fictional strip called Forever and A Day which I quickly became frustrated with and stopped. I decided then to return to autobio and restarted Sob Story - as a series of single page strips instead of multipage stories.
"Between 2001 and 2003, I produced 26 Sob Story full page strips. In late 2003 I quit again, in order to concentrate on filmmaking (my film "Graveyard" had just come out on DVD and I was having trouble balancing the two).
"My break from comics didn't last long. In early 2004, I wrote a series of Sob Story strips and had a bunch of guest artists produce them for me. Then, in March of 2004, I challenged fellow comic artist Brian Fukushima to a competition. Each of us put $20 on the line to see who could maintain the longest Monday through Friday update schedule. Billis and Les McClaine also joined in and the challenge lasted just shy of a year. (A second round of this challenge, The Daily Grind Iron Man Challenge, was started February 28th, 2005 and had an amazing 56 entrants).
"Since the first Daily Grind started, I've produced over 300 new Sob Story strips. Recently, I've moved from pure autobio to semi-autobio, which I find to be more invigorating."
Here is Ed's creative process for Sob Story, also in his own words:
"Well, this is sort of a tough one.
"When it comes to writing, I generally have a pretty good idea about what is going to be happening before I sit down to draw anything. I rarely thumbnail anything ahead of time - although I often wish that I did. Often times, if I'm doing a gag based strip, I find that I am rewriting things right up until the end. Sometimes I'll even rearrange panels in photoshop to change the flow.
"With the stuff that I'm currently working on, I have everything basically mapped out. I'll start a strip and know that it has to go from point A to point B in order to bring it to the next part. Each part is usually pretty clearly mapped out, even if it seems like not much is happening, and is part of a much larger story. So, on reading, there are a few strips that may seem inconsequential, but they definetly have a purpose.
"After the strip is drawn, I scan it and then make any needed corrections in photoshop. This is also where I add all of my greytone effects."
Check out some of Ed's original art below!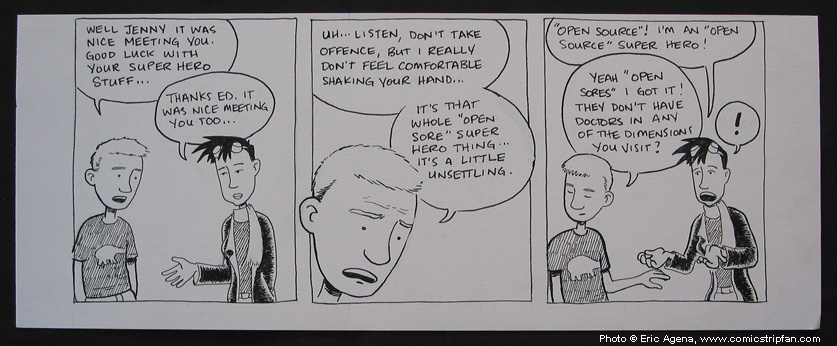 Example of Sob Story daily by Ed Brisson, April 30, 2004. The strip features an appearance by Jenny Everywhere. As explained by Ed on his site, "The character of Jenny Everywhere is available for use by anyone, with only one condition. This paragraph must be included in any publication involving Jenny Everywhere, in order that others may use this property as they wish. All rights reversed."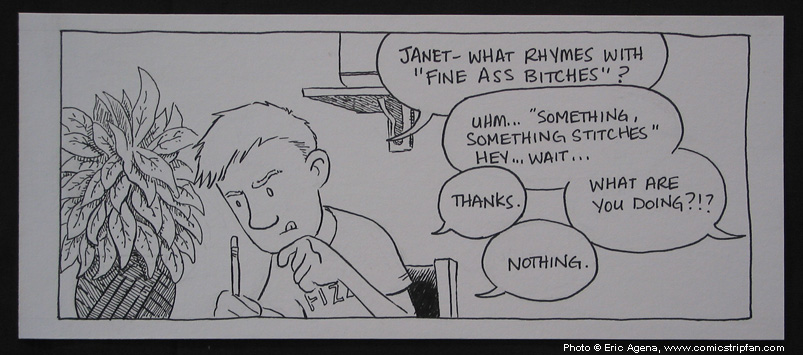 Example of Sob Story daily by Ed Brisson, August 27, 2004. I like this one, as I'm a big fan of rap (and believe it or not, I actually used to rap many years ago).

Example of Sob Story daily by Ed Brisson, August 31, 2004. Another one that I really like. I just love the hypocrisy. Years ago at a former place of employment, the owner of the company and his daughter were eating lunch with me and some other coworkers. Well, she was some kind of die-hard anti-meat person, and some of us (including her dad) were eating burgers. Well, every time he'd take a bite she'd let out a "moo". Her dad never said anything, but it was pretty irritating. I hope people crowed whenever she ate chicken.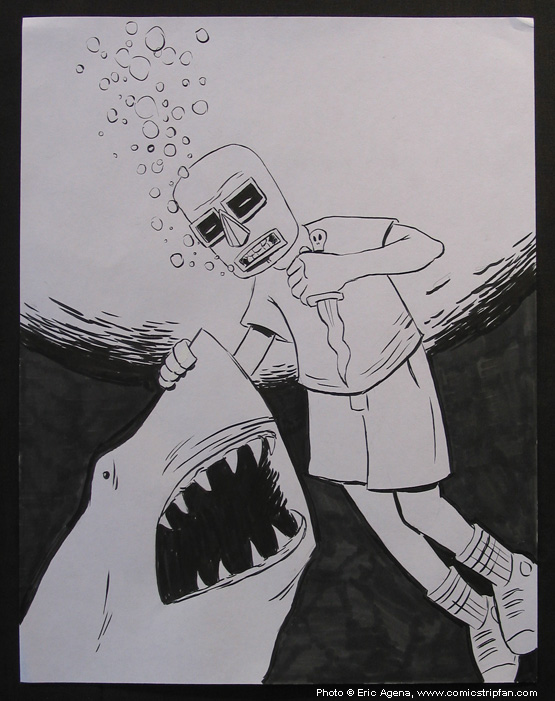 A great specialty sketch by Ed Brisson, featuring his version of the beach in Hawaii. As described by Ed, "When I was a kid, I always thought of Hawaii being an island completely held captive by sharks. Since Sob Story has become a comic about me as a kid and my fantasies, I thought it was sort of fitting." What a cool piece. Thanks, Ed!
Go and check out Sob Story for yourself by clicking on the link below!

All art is © by their respective © holders. ComicStripFan.com and entire site © Eric Agena. All Rights Reserved. Unauthorized reproduction, use or publishing in part or in full is prohibited.