ComicStripFan.Com
Skinny Panda, by Phil Cho
Here, gang, is another of my personal favorites. Skinny Panda by Phil Cho is a wonderfully drawn and beautifully written strip following the lives of the title character and his ragtag bunch of friends, including Flower, Gopher, Robokitty, Computer, and Penelope. Skinny Panda is just that, a skinny panda, who generally has a more brooding disposition and outlook towards life. Each of his friends also have their own quirks that drive each other crazy yet make them all inseparable. I love Phil's artwork, and he is also an incredible writer. There are several storylines that truly move me emotionally, and others that outright crack me up.
Phil actually has enough material in this single strip to spurn three separate and distinct titles. Penelope herself started out in the strip apart from Skinny Panda, with snapshots of her life clearly illustrating her disdain for the "elite" lifestyle that her parents lead. She is a criminal genius trapped in the body of a little girl, and she and her misadventures could easily have a title of its own. She has now joined up with the Skinny Panda bunch, however, bringing another wrinkle to the dynamics of that zany crew.
Sprinkled in between the Skinny Panda stories are Phil's fabulous Stickman one-shots. These are usually more long-form dailies (actually more like pages), with the characters all being stickmen. In my opinion, these strips really emphasize Phil's abilities to the hilt. Anyone can draw a stickman, but not everyone can actually effectively tell a story through them effectively and even artistically. Phil really brings the stick figures to life, a big reason why those strips have a strong fan following themselves.
I had the honor of meeting Phil in person on Tuesday, August 15, here on my home island of Kaua'i, Hawai'i. He did a wonderful original Skinny Panda piece for me and the site, and flew out here special to deliver it. (He mentioned something about a wedding on Oahu that weekend, but I figured he was just gonna go since he was in Hawai'i anyway to deliver the art to me. Heh.) I had a wonderful lunch with Phil and his girlfriend Julie (who had faster hands than me when it came to grabbing the check...grr!), and I had a great time chatting with them about Skinny Panda, my gallery, and webcomics in general. I had a blast, and it was truly a joy to meet them both. (Thanks for taking the time to sit and chat with me, Phil and Julie!)
Phil is not quite ready to part with any of his original Skinny Panda strips (not that I can blame him). However, he was gracious enough to give me a page out of his scrapbook (literally) with the roughs and thumbnails that he prepares before making the final strips. Phil also did a wonderful original Skinny Panda drawing for me (thanks again, Phil!).
Check out some of Phil's terrific artwork below!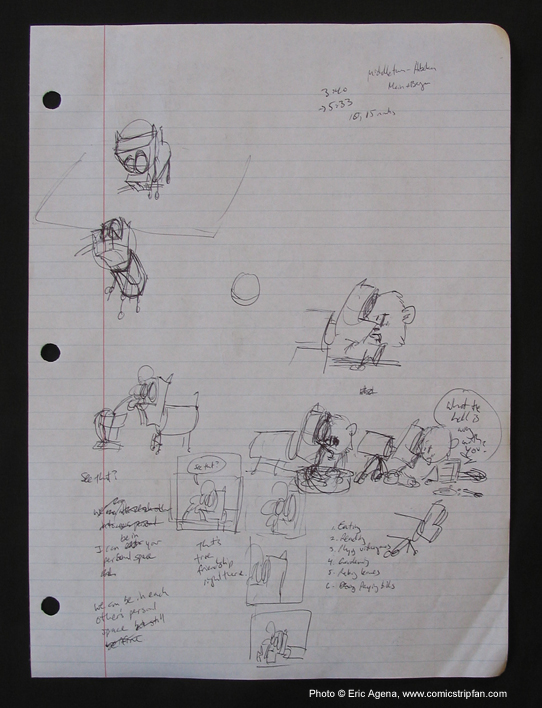 Example of Skinny Panda thumbnail sketches by Phil Cho for November 14, 2005. The daily is titled "Personal Space" and is another great strip featuring Flower, Robokitty, and Gopher. Go and check the finalized version here.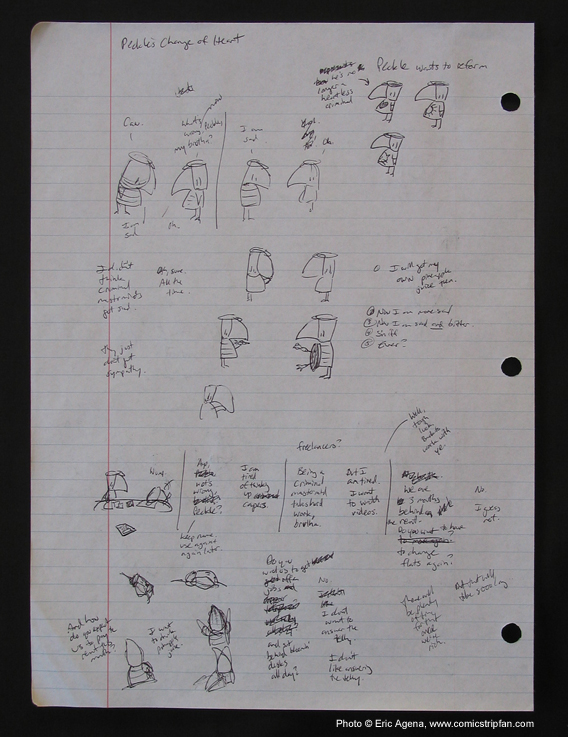 Example of Skinny Panda thumbnail sketches by Phil Cho for the "Peckle's Change of Heart" storyline that ran from November 16, 2005 through December 28, 2005. It's really a beautiful story that Phil told brilliantly through his wonderful writing and art. Go and check it out for yourself starting from Phil's archives here.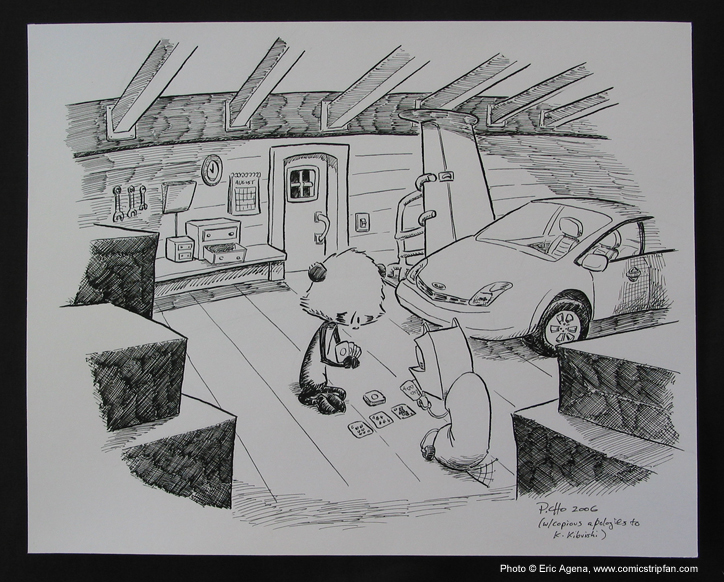 A stunning original drawing of Skinny Panda and Robokitty by Phil Cho done specifically for me and the site. There's some incredible detail and linework in this picture, and it literally took my breath away. (Thanks for putting so much work into this piece, Phil!)
Check out Skinny Panda for yourself by clicking on the link below!

All art is © by their respective © holders. ComicStripFan.com and entire site © Eric Agena. All Rights Reserved. Unauthorized reproduction, use or publishing in part or in full is prohibited.