ComicStripFan.Com
This Week in Astrology
Creig Flessel drew This Week in Astrology after leaving David Crane. He signed the strip with the pen name "Valentine." Flessel started drawing comic books in 1935, and drew The Sandman golden age character. Afterwards he became the longest tenured artist at Johnstone and Cushing (see Hogan's Alley #10) and was responsible for many of its longest-running cartoon ads. He also did Boy's Life covers, textbooks, worked on the comic strips Dixie Dugan, Li'l Abner, and Friday Foster, and was responsible for drawing the David Crane comic strip until its demise.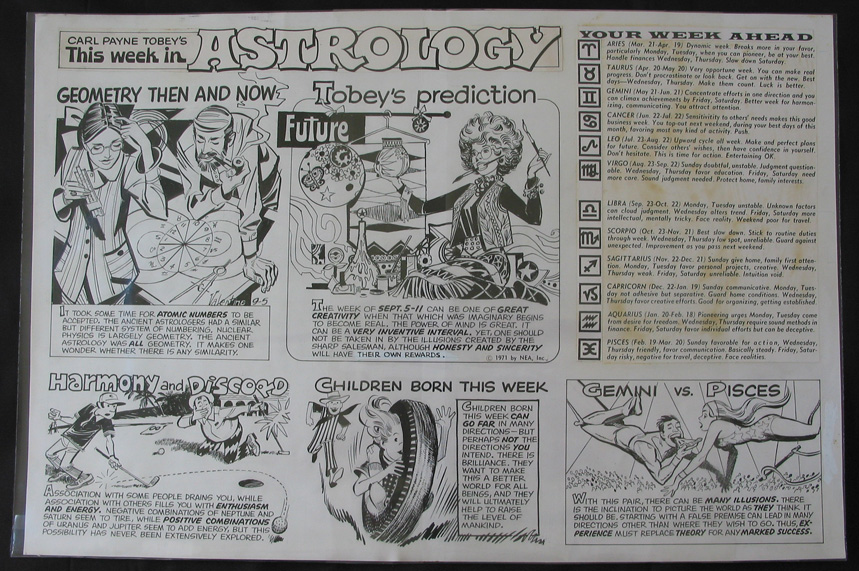 Example of This Week in Astrology daily by Creig Flessel ("Valentine"), September 5, 1971. Copyright NEA, Inc. Paper size: 22" x 14 3/4". The strip was still in plastic when the photo was taken, hence the glare.
All art is © by their respective © holders. ComicStripFan.com and entire site © Eric Agena. All Rights Reserved. Unauthorized reproduction, use or publishing in part or in full is prohibited.