ComicStripFan.Com
Terry and the Pirates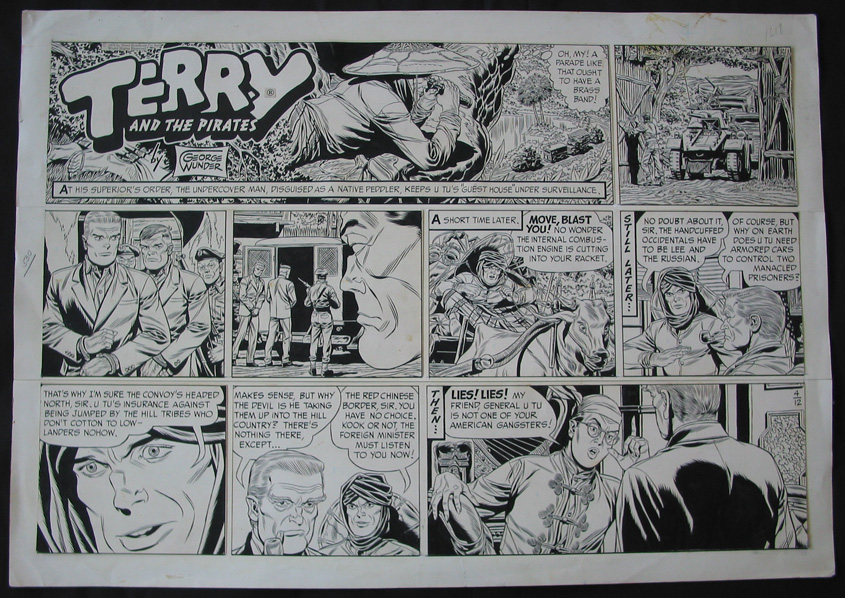 Example of Terry and the Pirates Sunday by George Wunder, April 12, 1970. Copyright News Syndicate Co., Inc. Strathmore size: 27" x 19". Ink. Terry is a prisoner in communist China. Beautiful condition, great composition, and strong blacks. Some notes about Chicago Tribune Sunday page art: All features that were sold as both full and half pages were drawn as fulls, had to have their panels re-arranged, as well as sometimes extended slightly. Though most syndicates did this with reproductions The Chicago Tribune often did it with the actual artwork. This page was originally drawn in vertical format, after shooting for full (or tab) was cut and repasted for this format. Many pages of the most famous Tribune features like Dick Tracy, Brenda Starr, etc. are like this also.

Example of Terry and the Pirates daily by George Wunder, January 20, 1972. Copyright New York News, Inc.
All art is © by their respective © holders. ComicStripFan.com and entire site © Eric Agena. All Rights Reserved. Unauthorized reproduction, use or publishing in part or in full is prohibited.