ComicStripFan.Com
Queenie, by Phil Interlandi
Strip run: 1966 - 1985
Queenie was a comic strip about a voluptuous blonde secretary. It was created in 1966 by Phil Interlandi, a cartoonist whose work appeared in Playboy since 1955. Interlandi joined the army at age 17 and drew cartoons for The Yank during World War II, and was later a POW in Germany. In addition to Queenie, he also did the illustrations for Art Linkletter's "Kids Say the Darndest Things" books, Ed McMahon's Barside Companion, and others. His identical twin brother Frank was a syndicated political cartoonist for the Los Angeles Times. Interlandi passed away at his Laguna Beach, California home due to liver disease on June 26, 2002 at the age of 78.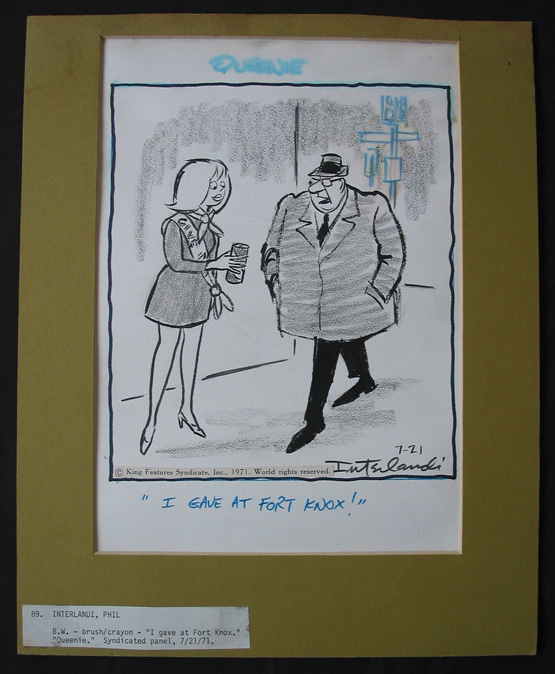 Example of Queenie daily panel by Phil Interlandi, July 21, 1971. Copyright King Features Syndicate, Inc. White artboard size: 7 1/2" x 10 3/4", matted behind a larger 10 1/2" x 12" cardboard. Black ink and artist's chalk (brush/crayon). Caption and title in blue ink. The title is smudged, possibly from some light water damage.
All art is © by their respective © holders. ComicStripFan.com and entire site © Eric Agena. All Rights Reserved. Unauthorized reproduction, use or publishing in part or in full is prohibited.