ComicStripFan.Com
Lolly's Hotel, by Ken Battefield
I truly know nothing about this particular piece. According to a previous owner, it appears to be Iger House work, but I have no idea. If anyone knows anything about this strip, please let me know!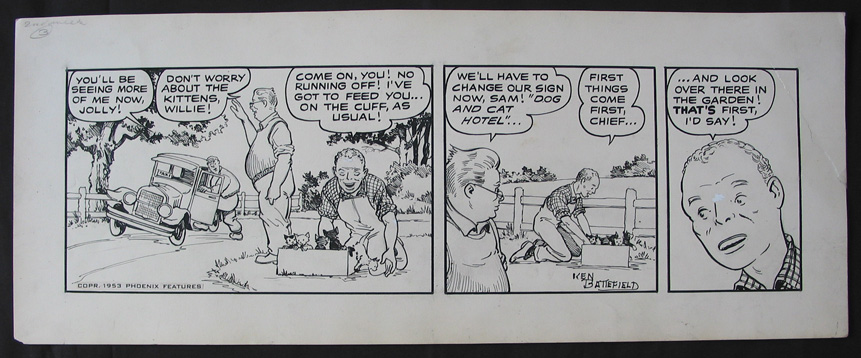 Example of Lolly's Hotel daily by Ken Battefield, from the "second week" (as noted in the upper left margin of the strip), 1953. Copyright Phoenix Features. Heavy art board size: 19" x 7 1/2". Not much is known about the history of the piece, save for some handwritten notes on the back of the art. The writer may have been Beth Brown, and the art was done by an Iger House artist who also did Fiction House and Phantom Lady. This particular daily features Lolly, Willie, Sam, and a box full of kittens.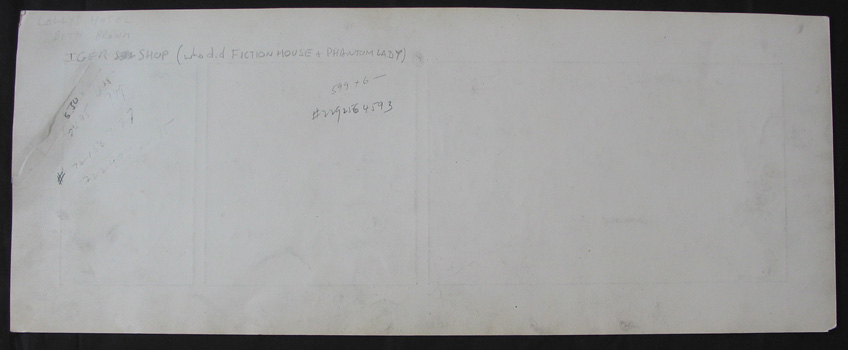 Reverse of Lolly's Hotel daily pictured earlier. Note the handwritten notes regarding the art.
All art is © by their respective © holders. ComicStripFan.com and entire site © Eric Agena. All Rights Reserved. Unauthorized reproduction, use or publishing in part or in full is prohibited.