ComicStripFan.Com
Lola, by Steve Dickenson and Todd Clark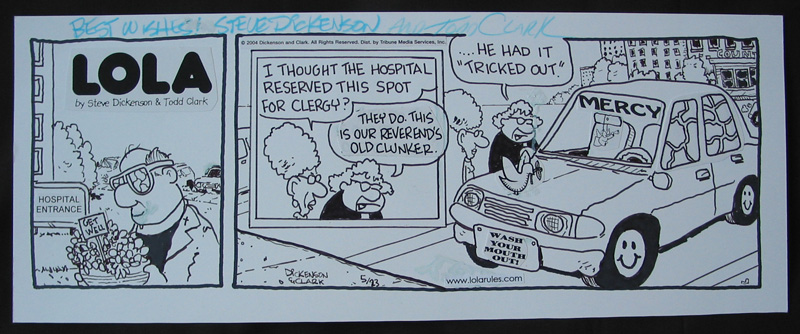 Example of Lola Sunday by Steve Dickenson and Todd Clark, May 23, 2004. Copyright Dickenson and Clark, distributed by Tribune Media Services, Inc. Art paper size: 14" x 6". Pen and ink on paper. Signed at the top in blue pencil by both Dickenson and Clark. In September of 2004, Bethel AME Church, in Carlisle, Pennsylvania, solicited a number of cartoonists for donations of original strips and drawings to raise funds toward the renovation of the church's administration office and towards funding an after school youth program. This is one of the pieces from that auction.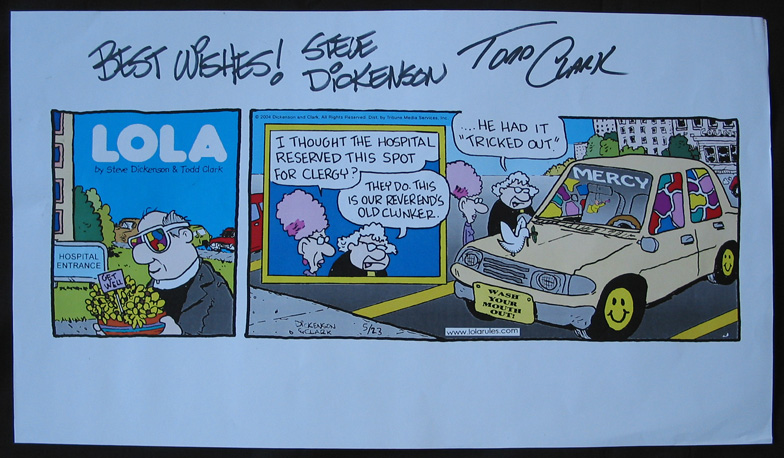 Color print of Lola Sunday for May 23, 2004 (see the original art pictured earlier). Signed by both Dickenson and Clark.
All art is © by their respective © holders. ComicStripFan.com and entire site © Eric Agena. All Rights Reserved. Unauthorized reproduction, use or publishing in part or in full is prohibited.