ComicStripFan.Com
Keypeek, by Jack Howels Ficklen ("Herc")
Strip run: 1960s (exact years unknown)
Jack Howels Ficklen, better known as "Herc" (short for Hercules, a nickname from his childhood) started out as a copy boy in 1928 with The Dallas Morning News. He began to submit cartoons, and he started a regular sports cartoon in 1937. Later in 1946 he began doing editorial cartoons, alternating the duties daily with John Knott and later Bill McClanahan. Herc is credited to a number of syndicated titles, including Out of Orbit (1958 - 1961), Keypeek (1960s), and Avalon Features (1960s and 1970s).
Herc retired from The Dallas Morning News thus ending his employment at that paper for 48 years, and his last cartoon there was printed on December 31, 1976. During his long career Herc received many awards and honors, including 12 Freedom Foundation Awards and 5 Katie Awards. He passed away in 1980.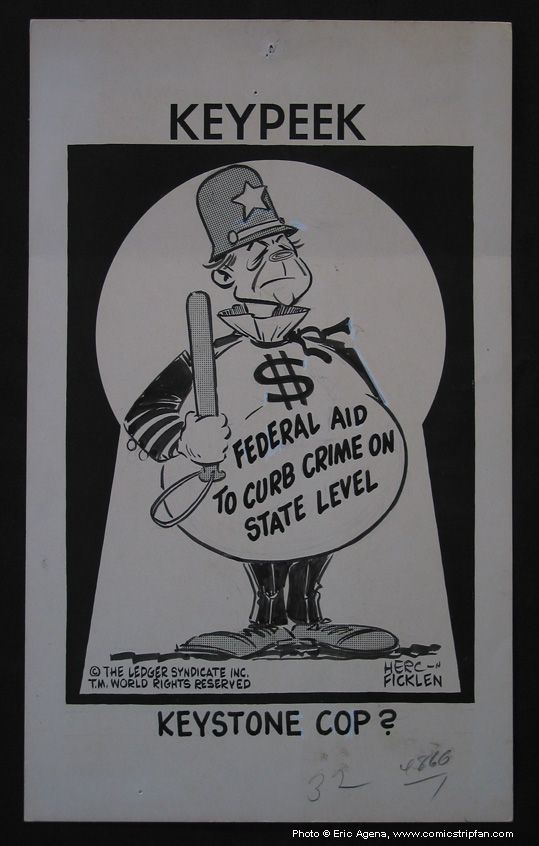 Example of Keypeek daily by Herc Ficklen, from the 1960s but exact date and year unknown. Copyright The Ledger Syndicate, Inc. Thick paper size: 6 1/2" x 10 3/4", image size: 5 1/2" x 7 1/2".
All art is © by their respective © holders. ComicStripFan.com and entire site © Eric Agena. All Rights Reserved. Unauthorized reproduction, use or publishing in part or in full is prohibited.