ComicStripFan.Com
George, by Mark Szorady
George started as a college comic strip feature with the Ohio State Lantern newspaper, where Mark drew the strip five days a week for nearly four years until his graduation. In 1990, George was syndicated by King Features and appeared in over 1,500 weekly newspapers. Nine years later, George was moved to the newly-formed DBR Media Syndicate where the strip continues its appearance in newspapers nationwide.

Example of George daily by Mark Szorady, date unknown, 1995. Copyright King Features Syndicate, Inc. Paper size: 16" x 5".
Check out George for yourself by clicking on the link below: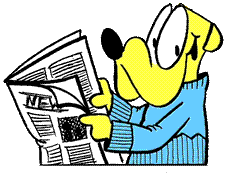 All art is © by their respective © holders. ComicStripFan.com and entire site © Eric Agena. All Rights Reserved. Unauthorized reproduction, use or publishing in part or in full is prohibited.