ComicStripFan.Com
Doonesbury, by Garry Trudeau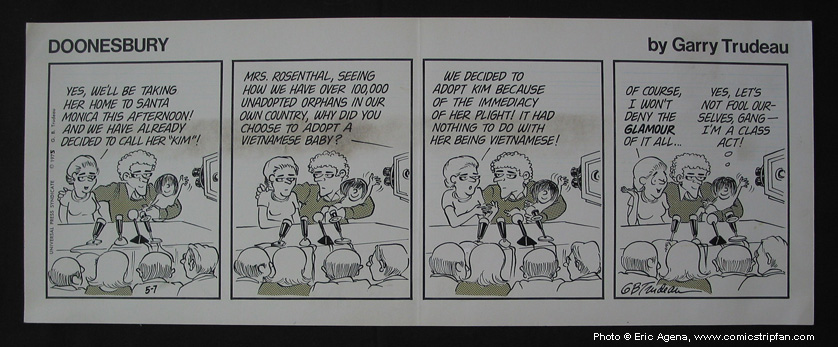 Example of Doonesbury daily by Garry Trudeau, May 7, 1975. Copyright G. B. Trudeau, distributed by Universal Press Syndicate. A great early example of the strip.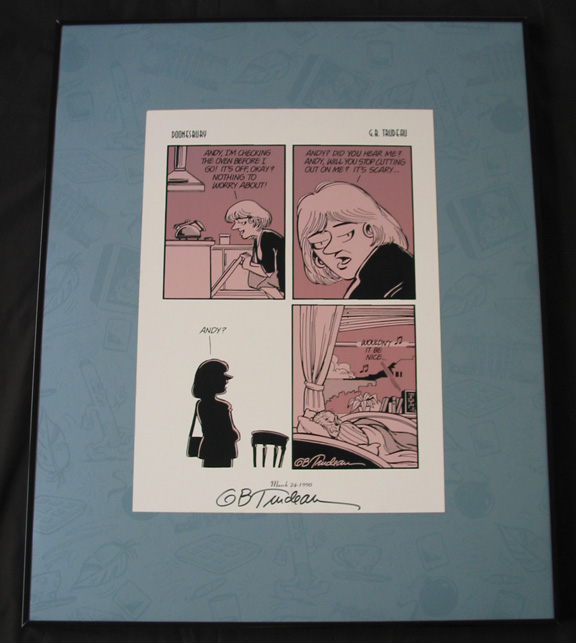 Signed Doonesbury print/poster by Garry Trudeau of the March 24, 1990 strip. Art size: 13" x 17". I'm not sure which party this was from but it came from one of the key Doonesbury birthday celebrations and was on display at the party. The art is dry mounted on a piece of foam core, and was personally signed by Garry Trudeau for the party. The mat also shows many of the character icons used in the strip. The art was in a black frame done by Empire Gallery Inc. in New York City. This piece was a one of a kind item, with one of each being displayed for every decade of Doonesbury; this was the one for the 1990's.
All art is © by their respective © holders. ComicStripFan.com and entire site © Eric Agena. All Rights Reserved. Unauthorized reproduction, use or publishing in part or in full is prohibited.