ComicStripFan.Com
Bound and Gagged, by Dana Summers
Editorial cartoonist Dana Summers created Bound and Gagged in 1992. The original concept was to have it be a completely non-dialogue/sound comic strip, but not long after its debut Dana added words and sound effects. The name stuck, however.

Example of Bound and Gagged daily by Dana Summers, July 16, 1992. Copyright Tribune Media Services, Inc. Paper size: 13 1/2" x 4 5/8". Pen and ink.
Check out Bound and Gagged by clicking on the link below.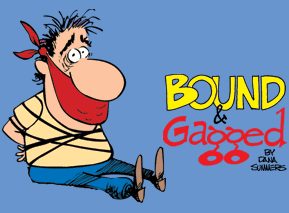 All art is © by their respective © holders. ComicStripFan.com and entire site © Eric Agena. All Rights Reserved. Unauthorized reproduction, use or publishing in part or in full is prohibited.