ComicStripFan.Com
Arlo & Janis, by Jimmy Johnson
Strip run: 1985 - present

Example of Arlo & Janis daily by Jimmy Johnson, March 17, 1997. Copyright NEA, Inc.
Check out Arlo & Janis online daily by clicking the link below!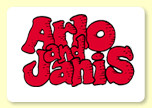 All art is © by their respective © holders. ComicStripFan.com and entire site © Eric Agena. All Rights Reserved. Unauthorized reproduction, use or publishing in part or in full is prohibited.