ComicStripFan.Com
GGA Pinups and Commissions - F. Newton Burcham
F. Newton Burcham is a talented fantasy artist whose fine line renderings yield some amazing results.
Some biographical information on Mr. Burcham, from his website: He is the nephew of illustrator and artist Earl Moran, and began his career at the age of 16 as a portrait artist and landscape painter. After some duty in the US Navy during the Vietnam era he graduated from the Midwest School of Art and Design and began his career in commercial art. He later became the assistant inker to Tony DeZuniga on Savage Sword of Conan and Jonah Hex. In the 1980's Burcham created a number of new characters including the supernatural hero Dark Wolf, a predecessor to Spawn. In the 1990's he worked in the toy industry on such memorable characters as Casper, Gumby, Godzilla, Tarzan, and many others. He has recently done some storyboards for movies, and was featured in a New York City art exhibit.
See some examples of the work of F. Newton Burcham below.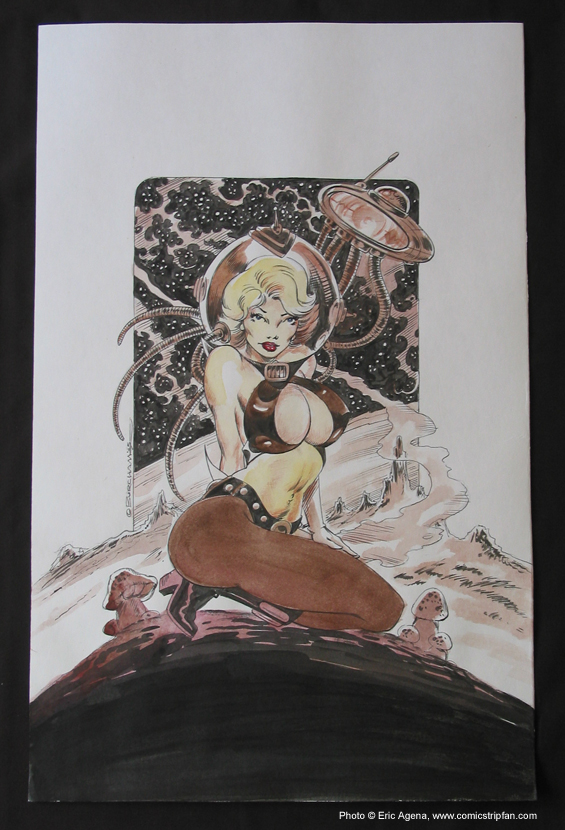 Original inked pinup of Rana Raygun by F. Newton Burcham, done in pen, ink and inkwash. Illustration board size: 14" x 22".
Check out more of Burcham's work by clicking here.
All art is © by their respective © holders. ComicStripFan.com and entire site © Eric Agena. All Rights Reserved. Unauthorized reproduction, use or publishing in part or in full is prohibited.