ComicStripFan.Com
Beavis and Butthead, Marvel Comics
In March of 1993, MTV debuted a new TV show called Beavis and Butthead, which combined music videos with the antics of two deranged adolescents. The humor was definitely not for everybody but there's no denying the popularity and success of the delinquent duo spawning all kinds of merchandizing, a feature length movie, trade paperbacks, and a comic book series that lasted for 28 issues.
Rick Parker was the artist for the entire run of the comic book. He was kind enough to do a great original sketch for me and the site (which is pictured below), and he also briefly described his creative process. His narrative gives some good tips and insight for budding comic book artists who may be new to the game, offering information and tips on how he normally does commission work. (I say "normally" as he did the sketch for me for free! Thanks, Rick!)
"I'm glad you like your free sketch. I try to go out of my way for people who seem to care about comics as much as you do.
My process is not overly-complicated.
1. The business side: Over the years I have found it best to draw up a written contract ahead of time describing the job and outlining the details (compensation, scheduling, size, disposition of original artwork, rights granted to buyer and for how long (very important to spell this out), charges for revisions) and get the client to agree to this in writing. It's not a matter of trust. It's to avoid misunderstandings and to avoid problems.) I advise all professional artists to work this way to protect themselves from problems. And there will be problems.
2. The artistic side: After considering where the piece is going to be used (whether in print or on the web) and how it will be seen, what size it will be when reproduced, whether in color or black and white, etc. I usually sketch out the basic idea in HB pencil on cheap bond paper. Usually, when sketching, ideas occur to me that will make the drawing better or funnier. These can be incorporated into or applied to the finished work. The next step is to show the client the sketch by e-mailing a 72 dpi JPEG. After the client has signed off on the sketch the next step is to do a finished drawing on good quality paper by lightboxing the original sketch and inking that with a Hunt's crowquill point to get the thick and thin line quality. I use Higgins #4417 Waterproof drawing ink. Be careful not to smear it. Next, I e-mail a 72 dpi JPEG of that to the client. Then if all is okay, scan the drawing at 300 dpi and color it in photoshop. Then I save a 300 dpi file and make a 72 dpi file to send to the client for approval. If all is okay, the client then pays and I send out the high-resolution file as an e-mail or on a CD. If the client pays for the original art, I mail that as well in a box or better-yet--a tube. Sign and date the work. That's about it. I hope I haven't left anything out."
Awesome information, and I am thankful to Rick for sharing it with all of us. One comment from me, however: I prefer when artists mail the art flat, as when it's sent rolled it's often hard to flatten them out completely (not to mention the damage it causes to the artwork itself, even if it can't be seen by the naked eye). It's important to note, though, that when it's shipped flat it HAS to be packed adequately, as most delivery companies aren't very careful with the packages no matter how it's labeled. That's consistent no matter the carrier, whether it be UPS, FedEx, or the United States Postal Service.
Check out some great examples of Rick's work below!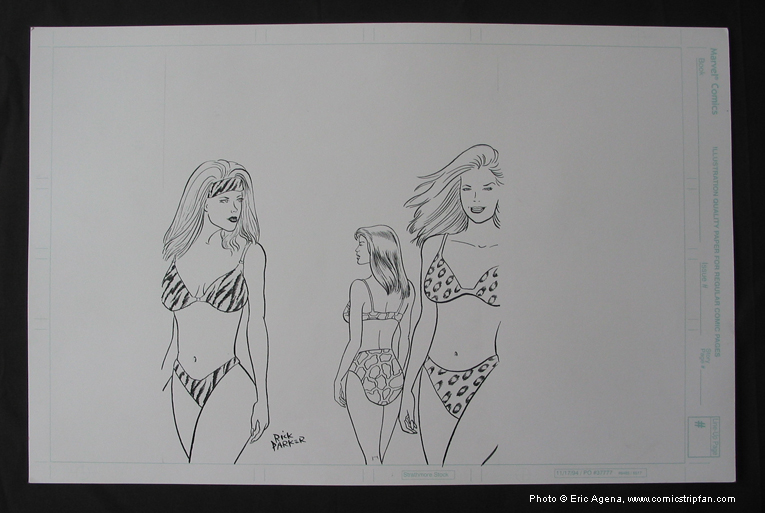 Original art used on the cover of Beavis and Butthead issue 15. Signed by the artist, Rick Parker. Art is on standard Marvel Comics stock, page size 11" x 17".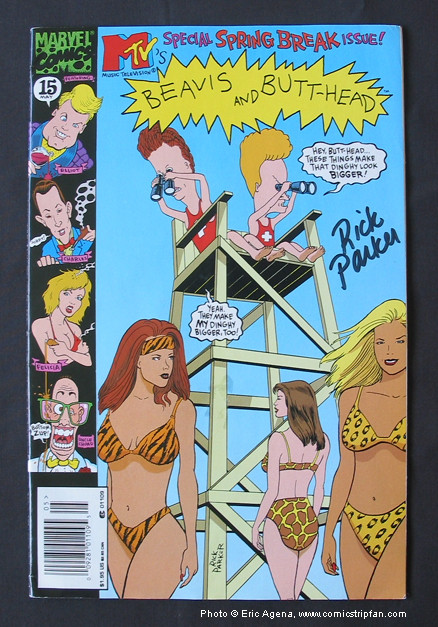 Front cover of Beavis and Butthead issue 15, signed by Rick Parker. Beavis and Butthead copyright MTV.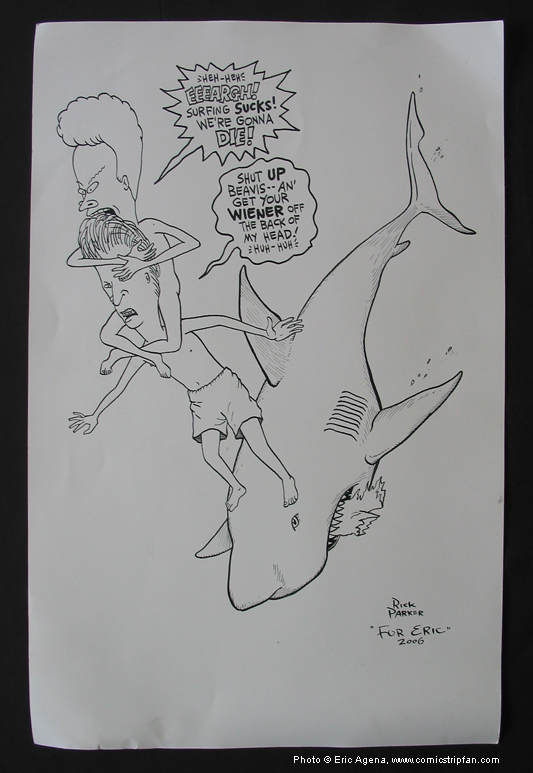 A hilarious sketch by Rick Parker of Beavis and Butthead "surfing" in Hawaii. Beavis and Butthead characters copyright MTV. It features the typical humor found in the TV show and the comic. What a great piece; thanks, Rick! (Check out two colorized versions below!)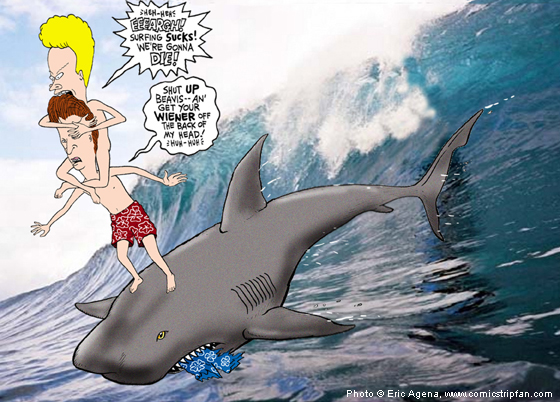 Colorized version of the original Hawaii sketch by Rick Parker. Beavis and Butthead characters copyright MTV. Rick did a great job with the piece. Check out a second version below.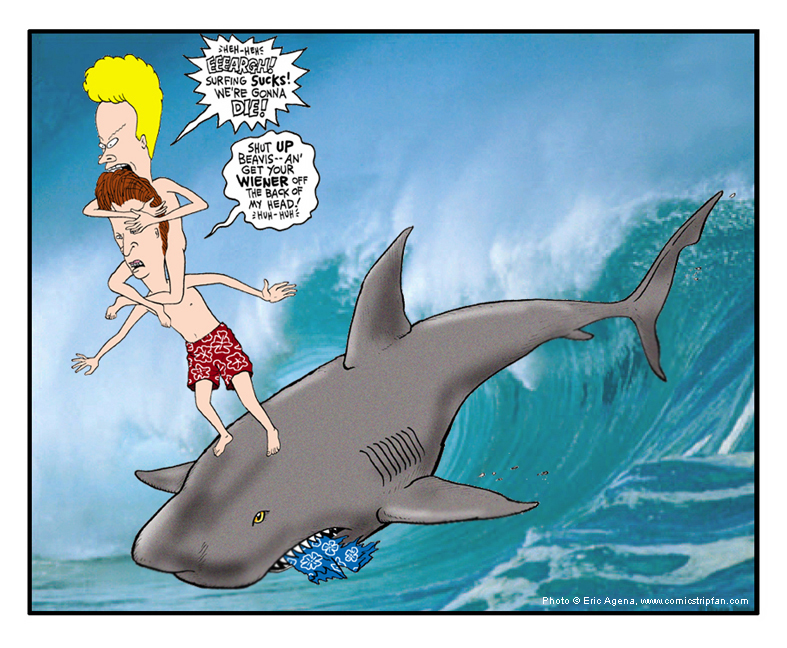 Another colorized version of the original Hawaii sketch by Rick Parker. Beavis and Butthead characters copyright MTV.
Go and see more of Rick's work at his website by clicking here.
All art is © by their respective © holders. ComicStripFan.com and entire site © Eric Agena. All Rights Reserved. Unauthorized reproduction, use or publishing in part or in full is prohibited.