ComicStripFan.Com
The following is a wonderful biography of Mr. Michael Marland, written by Mike himself specifically for the site (thanks, Mike!).
| | | |
| --- | --- | --- |
| | MICHAEL MARLAND | |
Mike was born, raised, lives and cartoons in New Hampshire. He grew up in a foster home in the small rural town of Lyman (pop. 300 or so at the time). His foster parents were farmers (see where this is going?).
He attended school in Lyman (grades 1-4 in a 2-room school) and in Lisbon, graduating in 1976. Mike is a (gasp!) college dropout - 2 months at the now defunct Notre Dame College in Manchester, NH (commercial art).
After a couple of years working in the furniture & shoe factories in Lisbon, (oooh THAT was fun!) Mike began working at a newspaper/printing company and stumbled into a weekly editorial cartoon gig with the paper (The Courier). He is in his 27th year drawing for them. Mike worked for a variety of newspapers and printers while cartooning on the side until he had enough regular work to take the leap and go into cartooning fulltime in 1988.
His regular work consists of drawing editorial cartoons for the Concord Monitor (6 a week, 1987 - present), the aforementioned weekly editorial for The Courier, a weekly comic strip, R.F.D., which is syndicated by King Features (1992 - present) - the strip originally appeared in The Courier then ran for around 8 years as a daily in The Union Leader until being picked up by King. Mike is also one of two gag writers for the long-running King Features comic strip Barney Google & Snuffy Smith (the other writer is the very funny Margaret Shulock of King's Six Chicks fame and the strip is drawn by cartoonist extraordinaire John Rose). He has been writing for the strip since 2001.
Mike also draws for various freelance clients when called upon (which is not nearly enough according to the bill collectors).
When not drawing cartoons Mike can be found mowing his big, honking lawn, pulling weeds in the garden, pretending he can play guitar and collecting Red Sox baseball cards (he is a lifelong Red Sox fan and as of 2004 a HAPPY lifelong Red Sox fan). Having visited 4 times (so far) he has also developed an obsession with Hawaii (psychiatric help or relocation may be needed!) He manages to actually finish a painting or two a year in his spare(!) time.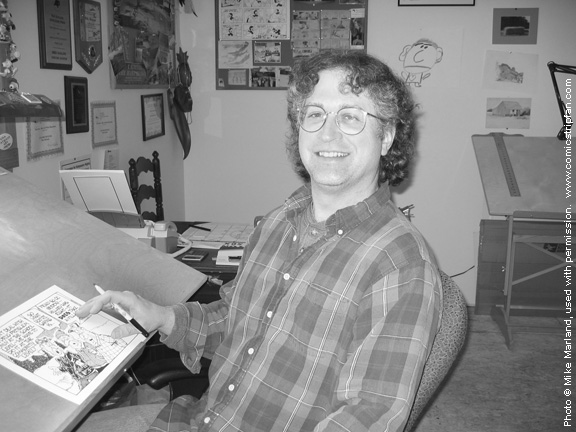 Michael Marland, 2004
Be sure to visit the R.F.D. gallery page for great examples of the art of Mike Marland. Also, check out the Barney Google and Snuffy Smith gallery page which features a rough draft drawn by Mike for a Sunday strip that he wrote.
All art is © by their respective © holders. ComicStripFan.com and entire site © Eric Agena. All Rights Reserved. Unauthorized reproduction, use or publishing in part or in full is prohibited.