ComicStripFan.Com
The following is a wonderful biography of Mr. George Fett, written by one of his nieces, Ms. Victoria Bell. This was written by Victoria specifically for the site (thanks so much, Victoria!).
GEORGE FETT

1920 - 1989
George Fett was a special individual. He was a sportsman, engineer and artist. The only child of Hungarian immigrants, he was born in Cleveland, Ohio in 1920. As a youngster, cartooning was his passion, drawing on walls, fences and sidewalks. He graduated from Collinwood High School in 1938. After graduation he attended the Cleveland School of Art, graduating after four years in 1941. The war was underway, so he chose to join the Merchant Marines to see the world. Upon returning from the war George was accepted at the Colorado School of Art on a scholarship program. He married his high school sweetheart in 1944.
While on their way to New York, a stop in Ohio to visit family changed their plans. He began an engineering career at this time. In 1961 he decided to fulfill a life long dream of doing a cartoon strip. It was not until 1964 that he was given a contract to do the Sniffy strip. Sniffy was named after a beagle he had. The other dog and cat characters in his feature lived with him at one time or another and became the background for the strip.
George loved to hunt, taking many trips out west and to Canada and Alaska. He enjoyed the Thursday night pool games in his recreation room with his friends. He loved the game, but claimed he did not play well- but working on it.
After retirement he began to pursue painting with watercolors and oil. He was an excellent artist, each piece of work different from the next. He had a talent that should have been for the world to see.
I am glad I had the privilege to know such an extraordinary person. He is gone, but not forgotten.
Written by one who knew him
Victoria DeMarco Bell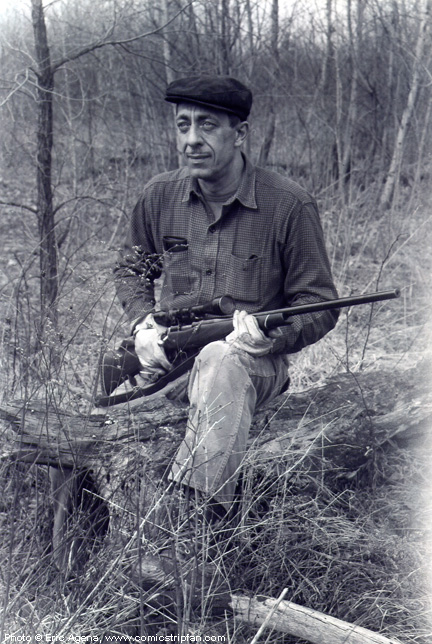 George Fett, 1969
Be sure to visit the Sniffy and Norbert gallery pages for great examples of the art of George Fett.
All art is © by their respective © holders. ComicStripFan.com and entire site © Eric Agena. All Rights Reserved. Unauthorized reproduction, use or publishing in part or in full is prohibited.